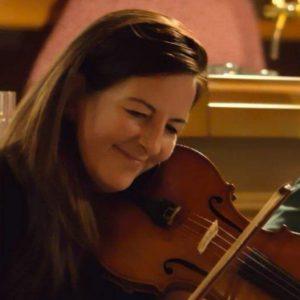 Fiddle
Name: Karen Bunnett (nee Dalton)
Born: 27.05.1971 in London (through no fault of my own) but raised in Dublin, Ireland.
Lived from 1992-1993 in Sydney, Australia and from 1998-2001 in Rehovot, Israel
Since 2001-2015 I lived in Darmstadt city centre but now settled in Riedstadt Erfelden close to the wonderful Kühkopf Unesco woodland.
Hobbies: Music, reading, travel, dogs, wildlife and nature … music.
My earliest childhood memories abound with traditional Irish music being played in the Irish cottages of my parents' homelands in the west and midlands of Ireland in the mid 1970's.
My father hails from Ballinalee, County Longford and my mother from the foothills of the Ox mountains in County Sligo which to this day remains my favourite fiddle playing style. I was also greatly influenced by the music of counties Galway and Kerry where I had family and spent many childhood holidays experiencing local playing forms/styles and tunes.
A few short years later this way of life would be changed forever but the experiences formed in my mind an early fascination for this music that brought people together in such a very generous way.
After years of formal classical training (and regular trad sessions), I left Ireland for Australia and later Israel where I played with The Five Shamrocks (Hamesh Tiltan), exciting and enjoyable experiences.
As I spread my wings I realised that traditional Irish music is not just a wonderful as an art form in itself but also a good way to meet a lot of amazing people simply by sitting down and sharing the music.
On arrival in Germany in 2001 I soon met up with Pittjes and Christiane in Günther Wehner's Irish pub close to where I lived in Darmstadt Mitte.
After years of meeting up together through the music and as friends I officially joined the band. Now with Ceol agus Ól I find myself at home again.
How I perceive the others:
Pit with his sensitive and accomplished guitar style always makes an easy accompaniment for my fiddle playing. He is the soul of our band; the one who creates that unique feeling which draws us all together.
Chris whose strong musical sense, warm spirit and eagerness to embrace the music makes me believe all is possible. When we play together I feel we are one.
Philipp with his steady rhythm and well executed playing of Irish slow airs (particularly regarded in Irish music) brings an important musical component to our group.
At this point maybe I should also give a little mention to our Otto (band dog) who has been a member of the band long before me and who we are very happy and proud to have taken over from our beloved Rudi who sadly passed away all too soon. It is an honour!